for upcoming events go to: https://www.facebook.com/groups/7248944933/

OSMAN PRODUCTIONS ilk adımlarını 2000'li yıllarda, uzun ve ince yollarda atmaya başladı… Yürüdükçe büyüdü, çeşitlendi, kalabalıklaştı.
Osman, aslında bir isim ve OSMAN PRODUCTIONS için de bir takma isim. Fakat öyle ki sokaktaki boyacıdan, meclisteki milletvekiline kadar her yerde duyulabilen, rastlanabilen bir isim… Tam burada OSMAN bir duruma da karşılık geliyor. Takma isim olmaktan çok her yere sızabilen, her yerde olabilen bir gülünç beceriksizlik, şaşkın ve dehşet içinde ama serin bakışlarla tanığı olduğu sahnelerin içinde süzülen bir hayali kimlik gibi…
Osman ismine rastlanabilen anların çeşitliliği gibi OSMAN PRODUCTIONS da ana akımdan, alt kültürden, aralardan ve derelerden geçen, hayallerden, gerçeklerden, müzikten ve her türlü imgeden, sokak sanatı, iğne oyası, tığ işi gibi pek çok çeşitte alandan beslenen ve tüm bu alanlarda etkin üretimine devam eden, herkesi de üretime ve devam etmeye teşvik eden bir oluşum.
İşte OSMAN'ın ve Osman Productions'ın hikâyesi… Her şey 1999 yılında New York'ta başladı. Sevgili dostlarım Aslı, Serkan ve ben Brooklyn'de kocaman bir çatı katında yaşıyorduk. Güzel günlerdi.  Türkiye'den gelip Amerika'ya yerleşmiş, sanat ve müzik üreten bir avuç insandık. Bütün bu manyaklık devam ederken bile kalkıp New York Philarmonic'teki işimin yolunu tutardım ve bu tam bir çılgınlıktı, bir Jekyll ve Hyde hayatı yaşıyordum sanki. Akşamları düzgün kıyafetlerimi giyip işe gidiyor, sonra Brooklyn'de döndüğümde tekrar o çatlak sanatçı serseriye dönüşüyordum. Türkiye'den gelen misafirlerimiz oluyordu ve neredeyse her gün komik ve manyak manyak olaylar oluyordu. Birileri bir sakarlık ya tuhaf bir şey yaptığında işte bir Osman Productions ânı diyordum. Böylece bu söz bir şekilde yapıştı kaldı, ne zaman komik ya da acayip bir şeyler, bir sakarlık olsa o artık bir Osman Productions olayıydı. Aynı sıralarda grafitiye büyük ilgi duyuyordum, New York'ta oraya buraya Osman künyeli sticker'lar yapıştırmaya başladım. Sokak sanatı konusundaki geçmişimle ve Shepard Fairey'nin Obey imgesinin geçirdiği evrimle ilgili bilgilere
buradan
ulaşabilirsiniz.
New York deneyiminin ardından 2000 yılında tekrar İstanbul'a döndüm. Can dostum Ege Madra'yla yeniden bir araya geldik. Tarlabaşı'nda yerleştiğimiz şahane terasla Ege'yle beraber saatlerce back to back müzik çalarken ben de pikapları kurcalamaya başladım. O sıralarda Ege Madra ve Sinan Noyan'dan oluşan DZA elektro/elektro tekno müzik prodüksiyonları yapıyor ve orada burada çalıyorlardı. Pikaplarda biraz daha tecrübe edindikten sonra çaldıkları yerlerde onların warm up dj'i olarak ben de bu ikiliye katıldım. Osman kavramı artık bütün arkadaşlarımızın da içine sinmişti ve böylece hep birlikte Osman Productions adı altında partiler düzenlemeye karar verdik.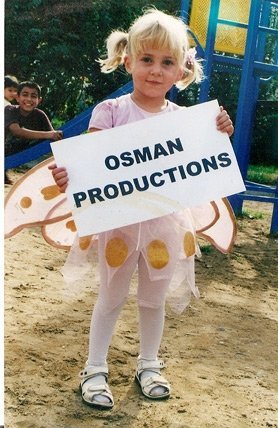 Etrafımızda bir ton yetenekli insan vardı, böylece tek bir çatı altında toplanmak üzere tüm arkadaşlarımızın becerilerinden faydalandık. Şahane görseller, enteresan dekorlar, zaman zaman moda gösterileri (kop-art), kostümlü partiler ve elbette o dönemde müzik ortamında çok da yeni sayılmayacak farklı bir müzik olan elektro'yu bir araya getiren etkinlikler düzenlemek istiyorduk. El afişlarımız için yaptığımız farklı ve komik grafik tasarımlarla da müzik ortamındaki diğer fütüristik tarzların arasından sıyrılıyorduk.  Daha sonra dj BANG! Olarak çalışmalarını sürdüren Cansu Aybar Photoshop konusunda tecrübeliydi, böylece ikimiz de etkinliklerimiz için çılgın el ilanı ve posterler tasarlamaya başladık. Bunlardan bir tanesinde 300 adet el ilanı basıp hepsine elle tek tek pamuklu kulak temizleme çubukları yapıştırmıştık. Üzerinde "Ultra electro tekno deneyime hazır olun!" yazıyordu. Neredeyse bütün kafe ve barlara posterimizi asarak, nöbetleşe çalışıp belli başlı etkinliklerde el ilanlarımızı dağıtarak adımızı duyurmak için gerçekten büyük çaba sarfettik. 200'ün üzerinde parti düzenledik, Avrupa'nın esaslı elektro dj'lerinden biri olan Legowelt'i İstanbul'a getirdik, o sıralarda Türkiye'deki müzik ortamında pek de bilinmeyen ilk Halloween partilerini düzenlemeye başladık ve her yıl aynı hayali paylaşan insanlardan oluşan bu özel topluluğun ortaya çıkışını kutladığımız bir parti yaptık. Peki Osman kimdir? Aslında herkes Osman'dır ve herkes Osman olabilir; herkes bir Osmanlık yapabilir zira hepimizin içinde bir Osman vardır!.
So here's the story behind OSMAN and Osman Productions. It all started out in New York in  in 1999. My good friend Aslı, Serkan and I were living in a huge loft Brooklyn. It was  good times...were were a whole bunch of guys from Turkey living in the States producing artwork and music. Even though all this madness was going on I would still head off to work  to the New York Philharmonic which was crazy as I felt like I was living a Jackel and Hayde kinda life. In the evenings I would wear my clean cut clothes and go to work, and then when back in Brooklyn turn into a crazy artsy fartsy wild guy. We had a bunch of visitors that would  visit us from Turkey so constantly funny, wild instances would occur on a daily basis. Whenever someone would  do something clumsy or  something awkward would happen I would say it was an Osman Productions instant. And so the term just stuck and whenever something funny, weird or accident prone happened it would be an Osman Productions instance. At the same time, having a big interest in graffiti, I started putting up stickers here and there in New York with the tag name Osman. You can get more info about my street art background and how the Shepard Fairey Obey image evolved from here.
After living the New York experience, in 2000 I moved back to Istanbul. There I reunited with my good old friend Ege Madra. We moved into a cool pad in Tarlabaşı were I would start to get my hands dirty on the turntables doing back to back sessions with Ege for hours on end.  At that time Ege Madra and Sinan Noyan of DZA were already producing electro/electro techno music and playing at gigs here and there. After getting more experienced on the decks I started to join the duo warming up for them at gigs. By this time the Osman concept had already sunk  in with all of our friends and so we all decided to give parties under the name Osman Productions.
As we had a full roster of talented people around us ,we utilized all of our friends abilities to join under the same roof. We wanted to create events that involved cool visuals, interesting decor, on time to time fashion shows (kop-art), costume parties and of course present a different kind of music that was not so new to the music scene, electro. We also stood out from the other futuristic style music scene by creating different comical graphic designs for our flyers. Cansu Aybar which later on became the dj BANG! at the time had some experience with Photoshop so we both created wild crazy flyers and posters for our events. One for example is a flyer where we printed over 300 flyers and glued Q-tips on each one individually. It's title was" Get ready for the ultimate electro/techno experience". We made huge effort to get the name out there by putting up posters in nearly every cafe and bar and by passing out flyers in selected events by taking shifts. We have organized over 200 parties, booked  and brought Legowelt to Istanbul, one of the main eletro dj's in Europe which is a first, organized annual Halloween parties which was not very new to the Turkish music scene, and celebrate by giving an annual party celebrating the anniversary of this special group  that share the same vision...who is Osman? Everyone is Osman, everyone can be Osman, everyone can do an act of Osman, we all have an Osman inside of us!.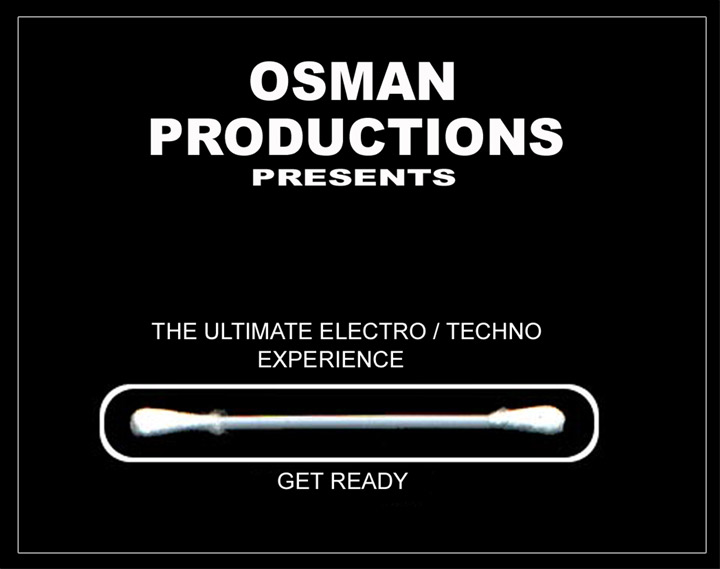 OSMAN Marşı:
kalemim keskin yazacaktım…
içimdekini bir bir sayacaktım…
kafamdaki tabu çelik bir duvar,
...bunu sana iyice anlatacaktım…
kumbaracı yokuşu çilekeş çukur
belasını arıyan orda bulur…
126 numara daire 3, kanayan yara kapaması güç..
sinan, kenan, bahar, ari ve ege,
yeraltında yaşamak acı bir töre…
töre biçimdir değişir,
zülfikar, flore, epe…
tükenen sensin aldanma,
zaman geçip gidiyor sallanma…
bazen ayık, bazen kayık,
günler geçip gidiyor bayık bayık…
aşk bir salgıdır, öte geçemez…
bilim çıpadır kimse çekmez…
beynim overload bir hard disk
kandemir konduk gelse silemez…
osman… yılandan kıvrak,
dilleri ve dinleri,
newyorku ve illeti başından attıda geldi…
osman…yaratıcı oğlan,
aklı bir teknedir onun fırtınada batan…
yüreği bir kap her gün saki dolaşan…
sen ve etrafındaki klan,
zafiyette sefahati buldunuz,
keyfiyette doğayı, yoksullukta parayı,
fildişi sarayı yıkan gelsin.
takıl ve takip et çünkü…
ondan sana gelecek iyi niyet
ve akıl ve ilim ve zehir ve ateş
ve darbe derinden ve keleş kurşun gibi sözler…
alnını yakar, yakar da geçer…
Sözler:
Murat Garipamagerçek