Melior Mundus // Daha İyi Dünya. from artsolutions on Vimeo.
Gravür, oyma, litografi ve baskı üzerine yoğunlaşan Ari Alpert, karışık teknikle üretilen ana imgeyi baskı yoluyla çoğaltma fikrinden güç alıyor. Köklerini pop-art'tan ve sokak sanatından alan bu demokratik, kolektif ve isyankar yaklaşım Alpert'in sanatçı kimliğinin çekirdeğini oluşturuyor. Alpert, sanatçının ilahlaştığı ve imgenin mesajı dikte ettiği kurumsallaşmış sanatsal geleneğin aksine imgenin özgürleştiği ve kendi hikayesini yarattığı bir yol izliyor. Baskı yolu ile farklı müdahalelerle manuel olarak çoğaltılabilen bu çalışma biçiminde sanatçı anonimleşirken eserin kendisi her geçen gün yeni anlamlar kazanıyor. Çağdaş yaşamın özündeki kaosu mercek altına alan sanatçı, insan doğasındaki çatışmayı zaman zaman mizahtan güç alan, dinamik ve kendine özgü bir görsellikle ortaya koyuyor.
Fransızca'daki "gravure" sözcüğünden dilimize geçen ve matbaacılıkta da kullanılan bir teknik olarak gravür, sanatsal anlamda kazıma resim sanatını ifade eder ve "oyma baskı" olarak da adlandırılır.
Linolyum; beziryağı, doğal reçine, mantar tozu, talaş, kalker ile sıvanmış, kendir dokumasından yapılan bir çeşit taban malzemesididr. Linol baskı tekniğinde, seçilen görsel materyal kesme bıçağı yardımıyla linol üzerine oyulur ve ardından matbaa mürekkebi ve merdaneler aracılığı ile boyanır. Baskı işlemi sırasında oyulan yerler değil, yüksek kısımlar kağıda geçer. Bu anlamda, oyma işlemini kağıda geçmesini istediğimiz görselin negatifini esas alarak  yapmak gerekir.
1995 yılında Boston, Massachusetts'te Güzel Sanatlar Müzesi Üniversitesi'nde eğitimime başladım. Fotoğraf, seramik, lateks/karma malzeme heykelcilik, mücevher yapımı (OHA! …öğretmenim sonradan bana dersi bırakmamı tavsiye etti çünkü ellerim kocamandı… haha… ama yaptığım havalı gümüş yüzüklerden bazıları hâlâ duruyor), çizim, resim ve şu anda aklıma gelmeyen daha bir çok ders alarak başladım. İkinci senemde almam gereken zorunlu dersler arasında gravür, oyma ve litografiyi de içeren baskı resim dersi de vardı. Baskı sanatsal çalışmalarım için mükemmel bir yol gibi göründü bana, farklı malzemelerle çalışmak, önce ahşap üzerine çizip sonra kazıyıp baskı yapmak ve bu şekilde imgeyi çoğaltmak hoşuma gitmişti. Özellikle de çalışmalarımı çoğaltabilme fikri bana müthiş cazip geldi, stencil yapmaya da sanırım bu nedenle başladım. O zamanlar çok sabırsız bir sanatçı olduğum için, ki hâlâ da öyleyim, son ürünü çabucak görmek istiyordum ve adım adım işleyen bir süreç olarak baskı benim için en uygun yol gibi görünüyordu. Zamanla comatex, linoleum gibi başka malzemelerle de çalışmaya başladım. Böylece okulun son iki yılında daha çok baskıya odaklandım. Nedense okuldayken serigrafi derslerini almamıştım ama 2000 yılında İstanbul'a döndükten sonra sevgili dostum, fotoğrafçı Kenan Sunar'la beraber bir serigrafi baskı stüdyosu kurduk. Kendi kendimize çözmeye çalıştığımızdan bu süreci öğrenirken bazı zorluklar da yaşadık ama sonunda bir sürü sanat eseri ortaya koyduk. O dönemde gerekli para akışını sağlayacak tişört baskılarını da bu şekilde yapmaya başladım. Ne yazık ki üniversite yıllarımın büyük bir kısmını belgelemedim, ama burada gördüğünüz eserlerin çoğunun satılmış olduğunu söyleyebilirim. Bir zamanlar Madam Butterfly'ın ev sahipliğini yaptığı bir evde üç kişilik bir sergi için yaptığım duvar oymaları da bunların arasında yer alıyor.
In 1995 I started going to art school at  The School of the Museum School of Fine Arts in Boston, MA. I started out by taking classes in photography, ceramic, latex/mixed material sculpture, jewlery making (WTF! ...my teacher later on advised me to drop the class because my hands were too big..haha..but I still have a couple of cool silver rings I made) drawing and painting and many more classes that dont come to mind right now. In my second year, with the mandatory classes assigned to me, I started printmaking classes which included woodcutting, etching, and lithography. Printmaking seemed a great way of expressing my art work, working with different materials first drawing onto wood, then carving it out and then printing and reproducing the image. Especially the fact that I could reproduce my work seemed very enticing to me which is probably why I started to do stencils.  As I was, and still am a very impatient artist, wanting to see the final product instantly, printmaking seemed like the best direction for me to go as it is a step by step process. As time progressed I staretd working with other materials such as comatex and linoleum.
So my final two years of school mainly focused on printmaking. For some reason I did not take up silkscreen printing while in collage but after moving back to Istanbul in the year 2000 I set up a silkscreen printing studio with my good friend and photographer Kenan Sunar. At first we had some difficulties learning the process as we tried to figure it out by ourselves but I ended up producing a whole bunch of artwork and also started to print t shirts which at the time was a much needed cash flow. Unfortunately I did not document the majority of my work during my collage years but I have to say most of the pieces that are shown here have been sold!. Included is also some wall carvings I did for a 3 man show in an apartment one time owned bl Madame Butterfly!.

Please feel free to comment on my work good or bad. Thanks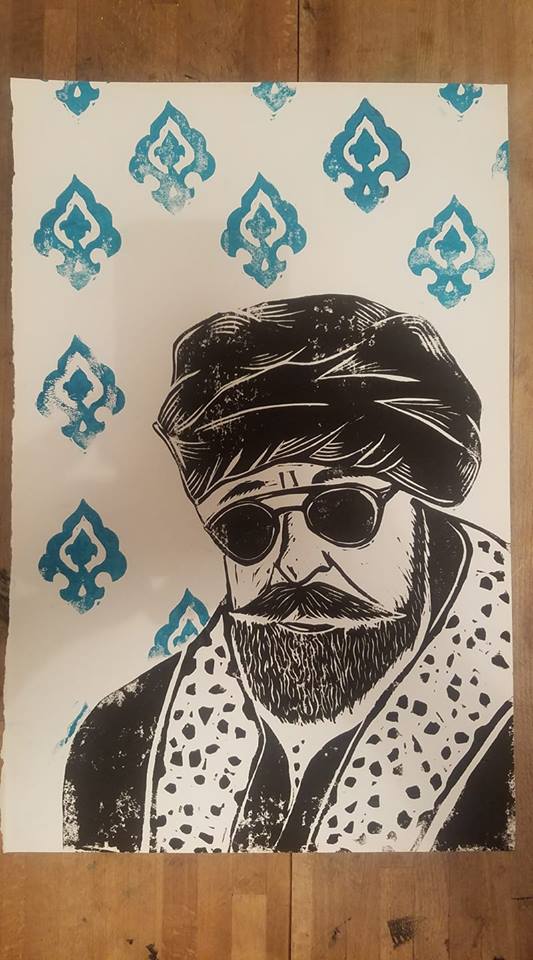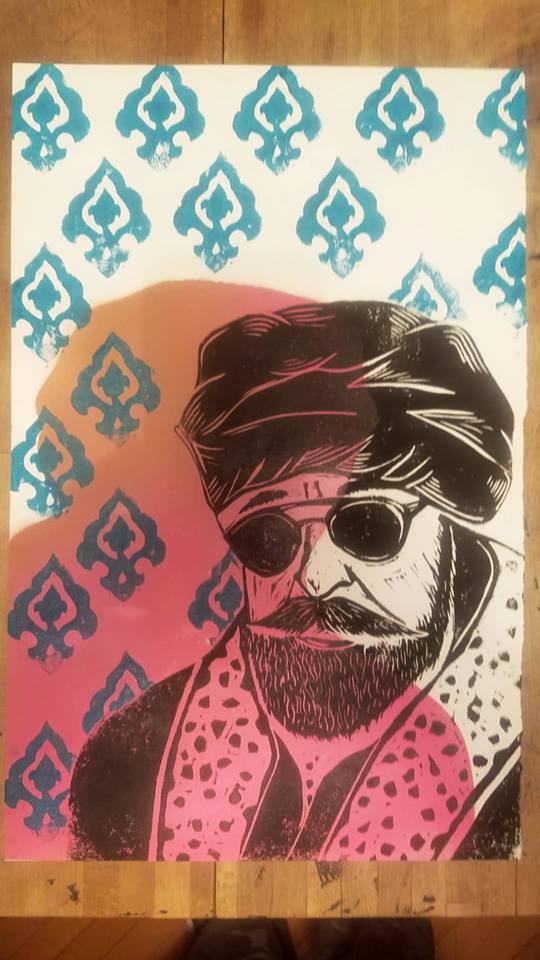 Cehennet - 2nd Edition 2016 Heavenell Linocut - mixed media 48x34cm